Include this Optional Add-On to your Saturday conference registration for an additional $26.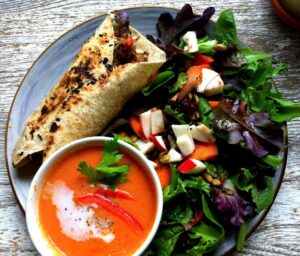 This savory, yet light, lunch features Chef's selection of soup, fresh garden greens with balsamic dressing or raspberry vinaigrette, your choice of wrap or tuna salad, and assorted dessert bars.
Lunch selection:
1. Cheddar chicken wrap with aged cheddar cheese and chipotle aioli
2. Grilled beef wrap with sweet peppers and fresh homemade salsa
3. Roasted marinated vegetable wrap with hummus (vegan)
4. Tuna salad with sliced fresh cucumber (not a wrap; gluten-free)
Please note that lunch must be pre-ordered; it is not available for purchase on event day. 
Lunch may be added to registrations until April 2, 2020, space providing. After this date, lunch registration is closed.  Accordingly, notice of cancellations of the optional lunch must be received on or before April 2, 2020 to be eligible for a refund. Contact our office to add or cancel lunch.
If you prefer to bring your own lunch, you are welcome to do so, however, please note the following hotel regulations:
Seating in the buffet lunch rooms is only available to attendees who order the buffet lunch.
The hotel does not provide a designated lunch room for those who bring their own food, nor is it permissible for attendees to sit in the hallways. There is limited common area seating available.
There is a restaurant on-site and a handful of restaurants near the hotel, only a short drive away.