Verification of Attendance certificates are available upon request for Neufeld Institute campus courses and some events. This is an automated system.
NOTE: The information you enter MUST match our database in order for a list of qualifying certificates to be found. Hint – use the same information as your most recent registration.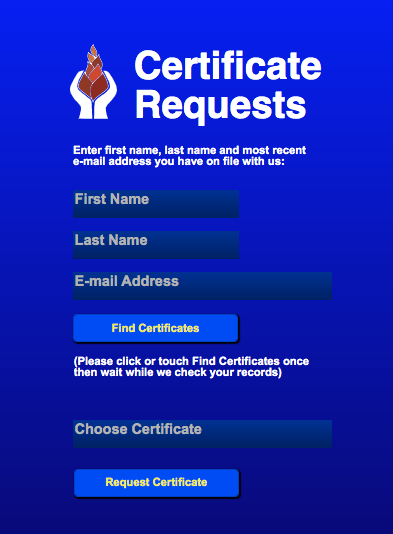 INSTRUCTIONS:
Use the CERTIFICATE REQUEST FORM button below to enter your First Name, Last Name and Email address.
Click "Find Certificates".
Choose one course or event from the list provided.
Click "Request Certificate". A PDF of the requested certificate will be emailed to you within a few minutes. Check junk/spam folder if you do not receive it in your inbox.
Repeat the above steps for each certificate request.
FREQUENTLY ASKED QUESTIONS
I do not see the course or event listed that I want to request a certificate for.
Possible reasons include:
The name and email address you entered do not match our database. (Hint – use the same information as your most recent registration.)
A certificate is not available for the course or event you're looking for. For example, we do not provide certificates for webinars, but we do provide certificates for our live annual conferences. If in doubt, please contact our office.
The course you are looking for was provided by a course facilitator, not through the Neufeld Institute directly. Contact your course facilitator.
You are looking for a certificate for a non-English course or event. This feature is for English language courses and events only.
Can these certificates be used for Continuing Education Units (CEUs)?
We are not an accredited institution, however, since Dr. Neufeld is a registered psychologist, his courses generally qualify for continuing education credit in related occupations. We suggest you use the course description on the website, together with your certificate, to apply to your governing organization.