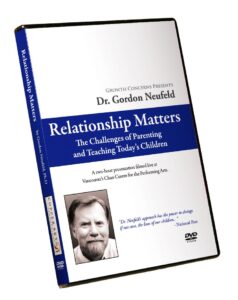 The challenges of parenting and teaching today's children
A two-hour public presentation filmed live at Vancouver's Chan Centre for the Performing Arts
Description: This is a professional recording of an outstanding presentation by Dr. Neufeld to a full house at the world famous Chan Centre for the Performing Arts in Vancouver, BC. The talk was received enthusiastically by both long-time students of Neufeld's approach as well as by those who had heard him for the first time. According to the audience, Dr. Neufeld did a brilliant job of explaining why a child's relationship to the adults responsible must be the context for parenting and teaching. All the basic constructs of his teaching are woven into this captivating presentation. If wanting to get a taste of this refreshing approach, or wanting to introduce someone else to Neufeld, this is the place to start.
Topic: Society has changed. So too have the challenges of parenting and teaching. We all want our children to realize their full potential. We all want our children to become caring and considerate individuals. Yet achieving these outcomes seems to be getting harder in today's world. How do we provide the conditions children need to truly grow up? How do we provide direction and discipline without it backfiring? How do we shield our children against the rising tide of aggression and bullying? Dr. Gordon Neufeld addresses these issues and points to a way through. His approach is refreshing and his insights make sense, not only of today's society but also of the children and youth in our care.
---
A write up of an address by Dr. Neufeld delivered at the European Union Parliament in Brussels
Topic: What are the experiences essential to the unfolding of human potential and how can we provide these experiences for our children? Dr. Neufeld takes a fresh look at this question using the latest understandings of developmental science. In doing so, he discusses the role of true play, deep rest, tender feelings and right relationships, in raising our children to become all they were meant to be.
---
The six stages of relationship
A 1.5 hour recorded public webinar
Description: This webinar is about how the capacity for relationship is meant to develop as well as why this development is so necessary. The implications are profound, not only for the future formation of fulfilling intimate relationships, but more immediately in how a child is influenced by family as well as impacted by daycare, school, and the digital world. Dr. Neufeld's life work has been to put the pieces of the attachment puzzle together. His six-stage model of attachment development has not only broken new ground in attachment theory, but provides a practical working model for parents and teachers to use in creating the context required for raising children in today's fragmented world.
Topic: Even though today's society does not reflect it, there is a growing consciousness that attachment is both our preeminent need as well as the context in which children are meant to be raised. What still surprises many people however is that children are not born with the capacity for relationship – it must be developed. Furthermore, while this development may be spontaneous, it is not inevitable. Unfortunately too many children fail to grow out of superficial ways of pursuing contact and closeness, and for some reason, this number seems to be growing.