Relationship Matters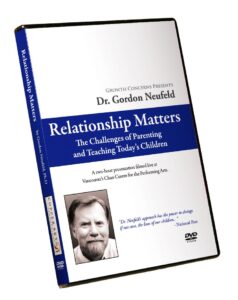 The challenges of parenting and teaching today's children
A two-hour public presentation filmed live at Vancouver's Chan Centre for the Performing Arts
Description: This is a professional recording of an outstanding presentation by Dr. Neufeld to a full house at the world famous Chan Centre for the Performing Arts in Vancouver, BC. The talk was received enthusiastically by both long-time students of Neufeld's approach as well as by those who had heard him for the first time. According to the audience, Dr. Neufeld did a brilliant job of explaining why a child's relationship to the adults responsible must be the context for parenting and teaching. All the basic constructs of his teaching are woven into this captivating presentation. If wanting to get a taste of this refreshing approach, or wanting to introduce someone else to Neufeld, this is the place to start.
Topic: Society has changed. So too have the challenges of parenting and teaching. We all want our children to realize their full potential. We all want our children to become caring and considerate individuals. Yet achieving these outcomes seems to be getting harder in today's world. How do we provide the conditions children need to truly grow up? How do we provide direction and discipline without it backfiring? How do we shield our children against the rising tide of aggression and bullying? Dr. Gordon Neufeld addresses these issues and points to a way through. His approach is refreshing and his insights make sense, not only of today's society but also of the children and youth in our care.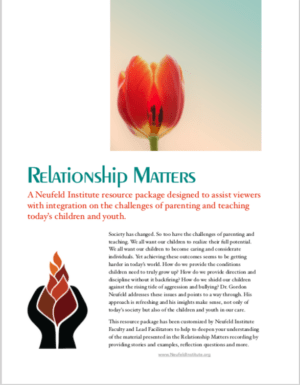 RELATIONSHIP MATTERS RESOURCE PACKAGE
The Relationship Matters Resource Package has been customized by Neufeld Institute Faculty and Lead Facilitators to help to deepen your understanding of the material presented in the Relationship Matters recording by providing stories and examples, reflection questions and more.
To request your copy of the Relationship Matters Resource Package, simply fill in the form on our website via the Inquiries page and we will email it to you.
---
Neufeld's Traffic Circle Model of Frustration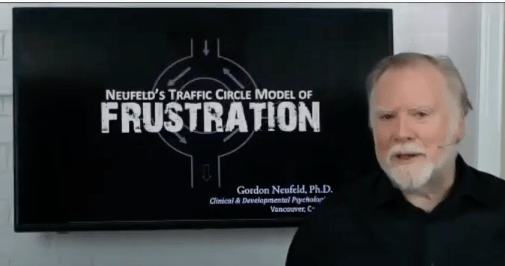 A 23-minute presentation by Dr. Neufeld followed by a webinar panel discussion with Tamara Strijack and Dr. Deborah MacNamara from September 2022
Frustration is one of our most profound and powerful emotions, and probably one of the least understood as well. There is no way of making sense of our children, ourselves, or the history of civilization for that matter, without making sense of this primal and perplexing emotion.
We get frustrated when something doesn't work for us. For many of us, that is not an insignificant part of life. Frustration not only has a foundational role in serving our problem solving brain but its handling is undoubtedly the critical challenge in becoming truly civilized. Understanding the frustration traffic circle has been transformative for countless parents, teachers, and therapists in helping their charges as well as for themselves.
Even though the story of frustration could take volumes for a complete telling, Dr. Neufeld does an amazing job of putting the puzzle pieces together in a digest form and in a way that can lead to deep and lasting change. For those who find they want more, a longer version of the story of frustration can be found in the Neufeld Institute course on Making Sense of Aggression.
---
The Keys to Well-Being in Children and Youth
A write up of an address by Dr. Neufeld delivered at the European Union Parliament in Brussels
Topic: What are the experiences essential to the unfolding of human potential and how can we provide these experiences for our children? Dr. Neufeld takes a fresh look at this question using the latest understandings of developmental science. In doing so, he discusses the role of true play, deep rest, tender feelings and right relationships, in raising our children to become all they were meant to be.
---
Roots of Attachment
The six stages of relationship
A 1.5 hour recorded public webinar
Description: This webinar is about how the capacity for relationship is meant to develop as well as why this development is so necessary. The implications are profound, not only for the future formation of fulfilling intimate relationships, but more immediately in how a child is influenced by family as well as impacted by daycare, school, and the digital world. Dr. Neufeld's life work has been to put the pieces of the attachment puzzle together. His six-stage model of attachment development has not only broken new ground in attachment theory, but provides a practical working model for parents and teachers to use in creating the context required for raising children in today's fragmented world.
Topic: Even though today's society does not reflect it, there is a growing consciousness that attachment is both our preeminent need as well as the context in which children are meant to be raised. What still surprises many people however is that children are not born with the capacity for relationship – it must be developed. Furthermore, while this development may be spontaneous, it is not inevitable. Unfortunately too many children fail to grow out of superficial ways of pursuing contact and closeness, and for some reason, this number seems to be growing.
---
Preparing for Motherhood: you're more equipped than you think
A 1.25 hour recorded workshop from the Tenth Annual Vancouver Neufeld Conference.
Although this particular talk was addressed to future mothers, the material applies to all parents.
Topic: How does one best prepare for our most important task – that of raising a child? What too often gets lost in the urgency of the moment, as well as in the flood of today's details, is what the challenge is all about – transitioning the baby from the physical womb to the attachment womb where healthy development can continue to take place. Nothing could be more important to keep in mind. In this conference session, Dr. Neufeld will help parents-to-be prepare to become the ANSWER their baby will be looking for.
---
What About Me? Reflections on Growing Up as Adults
A two-part 1.5 hour Keynote Address from the 2014 Vancouver Neufeld Conference
Adult life could probably be divided into two eras: before children and after children. The dynamics that are in place before we have children can change significantly once we become a parent or a teacher. How do we find fulfillment as adults? What about when we have unfinished business of our own? Is personal maturity a prerequisite to being a good parent or teacher? What do we do with our own shortcomings and feelings of guilt about past mistakes? How do we function when there is no one to take care of us?
---
Creating Playgrounds for Emotional Expression
A 1.25 hour recorded public webinar from Tamara Strijack and Hannah Beach from May 2020
When emotions stop moving, we start to see the signs of problem behaviour. Expression of emotion is the first step in emotional development, and yet many children, adolescents and adults can get stuck here. We all need safe places to express the emotions that are stirred up within us, as well as release pent up emotional energy. The challenge is finding those safe places. In this session, we will explore natural playgrounds for emotion to come out and play, and how we might facilitate this process – for our children, our adolescents and ourselves.
---
Getting Bedtime Right
A 1.5 hour presentation from Dr. Gordon Neufeld from April 2021.
Getting bedtime right is a big deal! It sets the stage for both parents and children for dealing with the myriad of separations a child faces in life. Of course, as we all know, sleep and bedtime problems can plague us at any age. Addressing them is much easier when there is an understanding of the issues involved. This presentation is one of several prerequisites for the Special Certificate of Studies related to sleep and bedtime issues.
---
Keys to Emotional Health & Well-Being: Becoming the ANSWER a Child Needs
A 1.25 hour Keynote Address from Dr. Gordon Neufeld at 2021 Neufeld Institute Conference
The scientific evidence is mounting that emotion is indeed at the heart of the matter, whether the issue is the stress response, problem behaviour, attention problems, learning problems, immaturity, or even mental illness. Given this new understanding, it only makes sense that emotional health and well-being should become our collective priority, whether it be at home, at school, or at work. But what is emotional health and well-being? How can we recognize it and foster it in ourselves, in our students, in our clients, and in our loved ones? Fresh understandings of the neurobiology of emotion are revealing interesting and surprising answers that have implications for us all.
---
Ode to Melancholy
A 1.25 hour presentation from Genevieve Schreier at the 2021 Neufeld Institute Conference
Happiness is easy to yearn for, both for ourselves, and especially, our loved ones. Who doesn't want those they love to be happy? We seek it, strive for it, welcome it—we have even built a multi-million-dollar industry around its pursuit. Yet happiness is but one of many human feelings. By the very same token, its counterpart, sadness, is avoided, escaped, and even feared. By negating sadness and melancholy, are we missing the very key ingredient in the unfolding of human potential? In this presentation, Genevieve will pay tribute to melancholy, making a case for changing our perspective on sadness and enabling us to come alongside this much-maligned feeling—both in our loved ones and in ourselves.
---
Bouncing Back: From Stress to Strength
A 1.25 hour Keynote Address from Dr. Gordon Neufeld at 2022 Neufeld Institute Conference
Stress is a part of life – there is no escaping it. The same is true for our children. When stress is thought of as the enemy, we look in vain to reduce stress and if we can't, to manage it somehow. The key to bouncing back from stress, even stress that knows no end, is to first understand the wisdom of the stress response – that is, how Nature is trying to take care of us and what it needs from us in order to do so. Dr. Neufeld will reveal new understandings from the science of emotion that should help to understand how the stress we experience today can be converted into the strength we need to face our tomorrows. The focus will be on the children in our care, but the principles discussed will apply to all ages. The good news is that everyone possesses the human capacity to bounce back from stress, even when the stress refuses to go away.
---
Address at the Kyiv First Ladies and Gentlemen Summit
A 16-minute interview with Dr. Gordon Neufeld on mental health, September 6, 2023
Dr. Neufeld had the honour and privilege (and challenge) of presenting at the Third Annual First Ladies and Gentlemen Summit in Kyiv. He had been invited to attend in person, but was unable to be there, so had to make his contribution online. The subject of the Summit was mental health, a timely subject even without the devastating impact of a prolonged war. His focus was children and youth. The concerns being expressed had to do with the current youth mental health crisis exacerbated by a war, and how to get the adolescents the expert help they needed.