Rest, Play, Grow: Making Sense of Preschoolers (Or Anyone Who Acts Like One)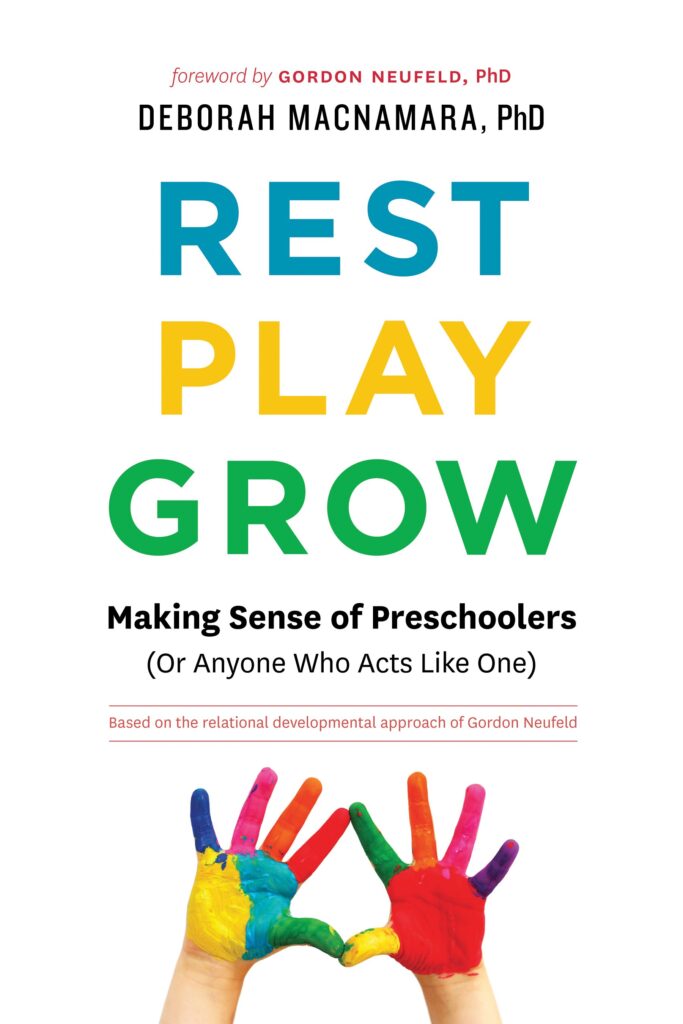 Based on the work of one of the world's foremost child development experts, Dr. Deborah MacNamara's Rest, Play, Grow offers a road map to making sense of young children, and is what every toddler, preschooler, and kindergartner wished we understood about them.
Baffling and beloved, with the capacity to go from joy to frustration in seconds, young children are some of the most misunderstood people on the planet. Parents and caregivers struggle with these little ones, who are known for their extreme behaviour, from tantrums, resistance, and aggression to separation anxiety, bedtime protests, and not listening. The key to understanding youngsters lies in realizing that their challenging behaviour is not personal, nor is it a disorder or deficit.
Based on science and the relational developmental approach of renowned psychologist and bestselling author Gordon Neufeld, Rest, Play, Grow reveals how adults have a critical role to play in creating the conditions for young children to flourish. This is the story of how young children develop, from their intense need for attachment and the vital importance of play to discipline that preserves growth. Engagingly written, with compassion for its subjects and rich with stories from them and their parents, Rest, Play, Grow will forever change the way you think of the preschoolers in your life.
Rest, Play, Grow has been translated into nine languages, Estonian, Danish, French, German, Korean, Italian, Mandarin, Spanish, and Russian. It is also available in English in audiobook and Kobo or Kindle.
Reviews & Testimonials
This book is a tribute to not only Deborah's giftedness but also to her absolute driving conviction that the insights regarding relationship and development must get out to those who are responsible for raising our youngsters… Deborah is wonderfully positioned to tell you this story, taking you from theory to practice. You could not be in better hands.

Gordon Neufeld, PhD, Founder, Neufeld Institute and Co-author, Hold On To Your Kids: Why Parents Need to Matter More Than Peers
Basing her approach in attachment theory and the groundbreaking work of Dr. Gordon Neufeld, Deborah MacNamara has written as essential primer on how to be a parent by making sense of the inner world of children. This book is developmental science translated into practical love.

Gabor Maté, M.D., Co-author, Hold On To Your Kids: Why Parents Need To Matter More Than Peers
This is a must-read for every parent of a preschooler or younger. Dr. MacNamara clearly shows the developmental stages of preschoolers so that parents gain a better understanding of the emotional state of the child. It is with this understanding that parenting the preschooler becomes easier. Read this and you will truly be your "kids best bet."

Kristy Pillinger, Editor-in-Chief, Nurture Parenting Magazine
Reading Rest, Play, Grow brought me to tears, because it reaffirmed my gut instincts as a parent. Deborah translates a child's language and maturity into an understandable framework, which will you give you that "aha" moment while reading it, and then she supports you with practices to manage the big emotions of children. Rest, Play, Grow combines real science with real life stories, humour, and sensible strategies. Deborah has translated the beautifully chaotic world of being a preschooler. If there is only one book you should read as a parent, this is the one.

Traci Costa, CEO, Peekaboo Beans
As a practicing pediatrician, I spend much of my day listening to parental concerns about their toddlers' imperfections. "How can I get my child to eat more, sleep better, toilet train faster, behave reasonably, be smart but not outsmart me?"As I formulate my response, frequently I think of my dear friend, Dr. Deborah MacNamara, and I ask myself, "How would Deborah answer this question?" I am delighted that she has put all those answers in this wonderful book, full of developmental wisdom and practical advice, on the daily life of maturing toddlers and their evolving parents. This is not a quick-fix script, but, instead, presents a road map to better understand this amazing age in all its glorious imperfections.

Keyvan Hadad, MD, MHSc, FRCPC, Medical Director, Intermediate Nursery - BC Women's Hospital & Clinical Associate Professor, University of British Columbia
Dr. MacNamara's beautifully written book gently expands the reader's perspective, providing a different lens for viewing the child, one that both widens and deepens understanding. Bringing richness to Dr. Neufeld's words and models, she helps the reader to do the work of applying such important theory with their own families. Dr. MacNamara truly has the gift of writing, always grounding concepts in very relatable moments from her life and work as a researcher, professor, counsellor, and, of course, as a parent.

Genevieve Simperingham, Co-founder of the Peaceful Parent Institute
Finally a book for parents of young children that weds neuroscience and attachment research and is consummately useful! I am certain that Rest, Play, Grow will be the go-to guide for confused and exhausted parents who are receiving mixed messages from professionals and the culture-at-large about how to raise their children. Dr. MacNamara shows us what we have sensed all along: the answers are within us, and we parents are the relationship experts we have been looking for. I guarantee you that Rest, Play, Grow will be your parenting training wheels and that by book's end you will be navigating your parenting journey with the utmost skill, confidence, and joy!

Sil Reynolds, Co-author of Mothering & Daughtering: Keeping Your Bond Strong Through the Teen Years
Rest, Play, Grow is a refreshing reminder of the importance of slowing down and allowing children to mature at their own pace, unhindered by societal expectations. With insight and sensitivity, Dr. MacNamara guides parents to trust their intuition to provide the conditions for children to grow rather than offering tools for changing behavior. After reading Dr. Deborah MacNamara's book, embracing a child's immaturity has never felt so fulfilling or freeing.

Lori Petro, Founder, TEACH through Love
Deborah MacNamara's book is rich with insights into both the nature of the child and positive parenting. A boon to parents and teachers, Rest, Play, Grow notes the preeminence of early parent-child attachment in optimal development, and it passionately affirms the primary value of play to children's well being and creativity. Dr. MacNamara is highly attuned to both children's needs and parental best practices. Read, reflect, share.

Raffi Cavoukian, C.M, singer, author, founder of Centre For Child Honouring
Table of Contents
Foreword by Dr. Gordon Neufeld
Introduction: Why Making Sense Matters
Chapter 1: How Adults Grow Young Children Up
Chapter 2: The Preschooler Personality: Part Beauty, Part Beast
Chapter 3: Preserving Play: Defending Childhood in a Digital World
Chapter 4: Hungry for Connection: Why Relationships Matter
Chapter 5: Who's in Charge? The Dance of Attachment
Chapter 6: Feelings and Hurts: Keeping Children's Hearts Soft
Chapter 7: Tears and Tantrums: Understanding Frustration and Aggression
Chapter 8: Alarmed by Disconnection: Bedtime, Separations, and Anxiety
Chapter 9: "You're Not the Boss of Me": Understanding Resistance and Opposition
Chapter 10: Discipline for the Immature: Buying Time for the Child to Grow Up
Chapter 11: How Young Children Grow Adults Up
About the Neufeld Institute
About the Author
Acknowledgements
Notes
Excerpt
To download the introduction to Rest, Play, Grow, click here.