I feel fortunate that I discovered the Neufeld approach to parenting when my children were quite young, so I knew that they needed me to help bridge the night.
But knowledge wasn't everything. I had to find my sense of play as a parent, too, lest I frustrate myself and begrudgingly wonder why my children wouldn't just "Go the F**k to Sleep," as the satirical book of the same title says.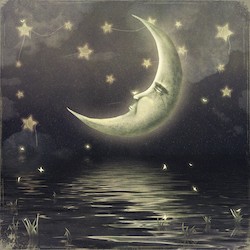 Music seemed to offer a certain kind of magic for our family. Listening to, and playing music, has always been soothing to me, and I trusted Dr. Neufeld knew what he was speaking about when he mentioned the power of music to soothe small children, too.
Just before bedtime, I'd set the mood with dimmed lights and gentle serenading from a "Bridging" playlist that I'd created. Not only was it creatively rewarding for me to search for dream-inducing songs, but each song that I found reinforced messages I wanted my daughters to hear as they faced the long separation of nighttime:
Child of Mine by Various Artists; Album: Down at the Sea Hotel – "so glad you are a child of mine."
Goodnight, My Angel by Various Artists; Album: Down at the Sea Hotel – "I would never leave you … wherever you may go, no matter where you are, I never will be far away."
May There Always be Sunshine by Kathy Reid-Naiman; Album: Sally Go Round the Moon – "may there always be mama, may there always be me."
Go to Sleep by Pat Hamilton; Album: Lullabies and Other Songs – "I'll take care of you," AND "I'll keep you warm in the cold," AND "if your dreams make you cry, I'll be there by your side"
Everybody Cries by Various Artists; Album: Down at the Sea Hotel – "wish that I could take away the tears from your eye, it's just that sometimes, everybody cries." AND "Just remember I'll be there to greet you when you rise."
Oh Sweetheart by Pat Hamilton; Album: Lullabyes and Other Songs – "you're the light of my life, oh sweetheart, I don't have to think twice."
Keep You Safe by JJ Heller; Album: Painted Red – "quiet your heart, it's just a dream, go back to sleep. I'll be right here, I'll stay awake, as long as you need me … to slay all the dragons, and keep out the monsters. I'm watching over you."
All Through the Night by Pat Hamilton; Album: Lullabyes and Other Songs – "while the moon her watch is keeping all through the night."
May We Both Rest by Various Artists; Album: Goodnight Baby Vocal Lullabies – "And when you flow into a distant tree, may we both rest. I'll close my eyes and fly to thee … may we both rest."
Yo Te Amo by Kathy Reid Naiman; Album:Sally Go Round the Moon – "I love you, I love you, all day long I'm going to sing my little song."
Rocking my daughters to sleep (or at least to a droopy-eyed, sleepy state) to these songs was enchanting—both ways. For my daughters, it was a wordless way to communicate that I wasn't going away, that my love was steady, that I'd be holding on to them no matter what. For me, it was a means of letting go of the temptation to treat bedtime like a task list, a reminder to slow down and delight in the closeness this bedtime ritual offered us.
What's more, rocking my children had a sad tinge to it. Through music and tones that spoke deeply to my soul, I could flash-forward a decade or two and see my daughters at different ages and stages when they'd no longer need, or want, me rocking them to sleep to music. Inadvertently, in this way it helped me find my tears—keeping my heart soft, more patient with middle-of-the-night interruptions, and better prepared for another day of physically exhausting parenting during those younger years.
---
The Neufeld Institute is offering the "Solutions to Sleep Webinar Panel Series" throughout November 2021 with Gordon Neufeld, Tamara Strijack, and Deborah MacNamara. Full details, visit our Events page.