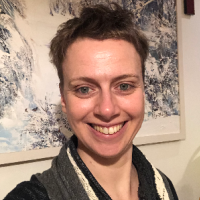 Lina Vizelman,BAPsy, BCompSc
Acting Regional Co-Director, Czech Republic
Predboj, Czech Republic
Course Facilitator
Lina has a BA in Psychology, a BA in Computer Science and worked in IT for 11 years. Discovering Dr. Neufeld's paradigm started her journey back to the field of psychology. She is currently studying the Neufeld paradigm and pursuing experiential studies of relationship-centered counselling.
Similar to many other parents, Lina first discovered Neufeld's approach when she was struggling to understand her highly-sensitive preschooler. The approach was eye-opening and provided the ability to see more clearly into her own soul and those around her. Lina continue to gain confidence in parenting her two young sons and yearns to be the best possible parent for her children. Lina provides consultations to parents who would like to see their children through the lens of the attachment-based developmental approach and apply it in their parenting. More information can be found on her
website
..
Together with her dear friend and colleague, Ksienia Majznerová Biazrukaja, and with the help of an amazing team of volunteers, they have initiated the project Rodičovství Hrou (parenting through play) with the goal of sharing the Neufeld paradigm in their home country, Czech Republic, and in neighbouring Slovakia. Lina and Ksienia are currently Acting Regional co-Directors for the Czech language branch of the Neufeld Institute, where the focus is on building a local community of Neufeld Institute students by providing them with translated resources, study, and support groups in the Czech language. Their activities can be found on their website
website
and
Facebook support group
.