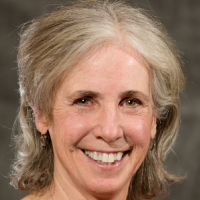 Laina Clugston, M.A.
Early Childhood and Parent Educator
South Freeport, Maine
Faculty
Course Facilitator
Laina Clugston is a faculty member of the Neufeld Institute. She has worked for over thirty years with parents and young children. She has a Master's Degree in Human Development with a focus on Jungian psychology. Laina is a lead teacher in the Infant and Toddler program and mentor for program and staff development using the Neufeld paradigm at Bowdoin College Children's Centre.
Laina is the mother of two and step mother of one. Working with the Neufeld paradigm remains an invaluable source for clarifying and deepening her family relationships. Making sense of children and adults through the attachment-based developmental approach and furthering this approach for those caring for young children is the focus of Laina's work. She creatively weaves together theory and practice to help those who work with children in home and classroom settings.
Laina is an authorized Neufeld Course Facilitator, offering courses throughout southern Maine to parents, educators, helping professionals and care providers, including:
Heart Matters: The Science of Emotion
Making Sense of Preschoolers
Making Sense of Discipline
Making Sense of Aggression
Making Sense of Counterwill