SELF-PACED STUDY & SCHEDULED ONLINE CLASS FORMAT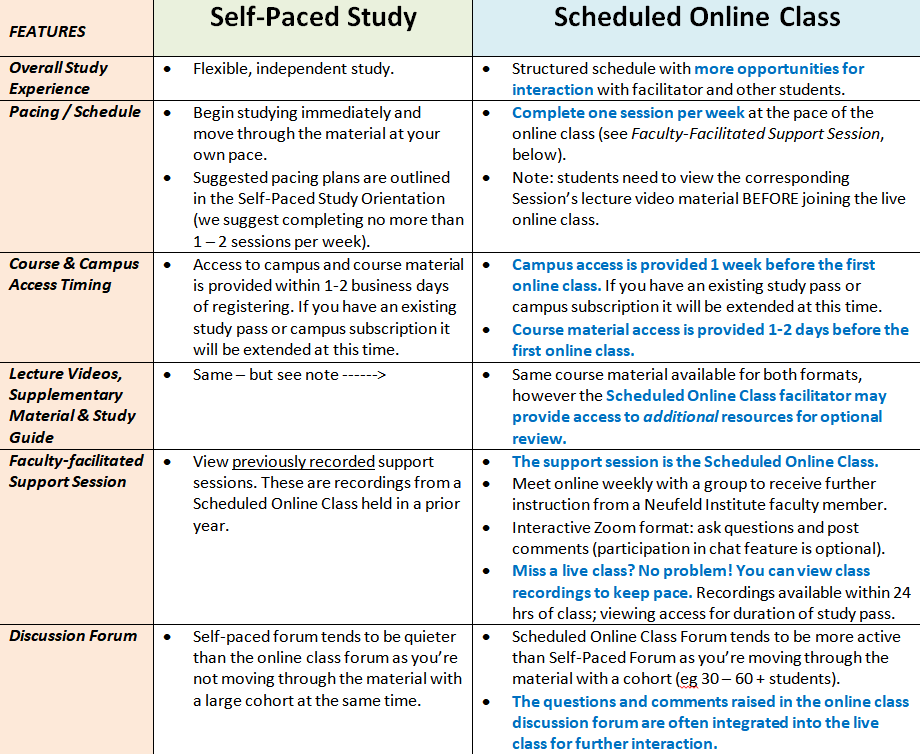 Online Campus Courses can be taken in Self-Paced Study format anytime or as a Scheduled Online Class when available (consult the Events page for upcoming classes). Not sure which format is best for you? Click HERE to view a Self-Paced Study and Scheduled Online Class comparison chart PDF or click on the chart thumbnail image.

Whether a student takes an Online Campus Course in Self-Paced Study or Scheduled Online Class format, each course has a similar structure, as outlined below.
ONLINE CAMPUS COURSE COMPONENTS
1) Lecture Video Material – In each course, a professionally filmed video of Dr. Neufeld teaching to a live audience forms the core of the course material. The course is broken up into more easily digestible sessions, usually an hour in length.
2) Study Guide (downloadable PDF) – In addition to the video material, a study guide has been developed to help in processing the course material. This guide includes slides from the course with space for note-taking, insight pages, primers for integration and application, and group discussion questions.
3) Supplementary Resources – Each session also includes supplemental resources that have been gathered to further illustrate the themes and dynamics introduced in the course material. These resources may include other recordings by Dr. Neufeld and his faculty, related articles, editorials, stories, presentations, etc.
4) Faculty-facilitated Support Session – Each course includes access to a support session led by one of our Neufeld Institute Faculty Members. Self-Paced Study students view previously recorded support sessions. For the Scheduled Online Class format, the weekly online class is the support session. For a taste of our online class support sessions, we invite you to view a preview video on YouTube, featuring highlights from the Fall 2022 Intensive I: Making Sense of Kids online class.
Besides the "text book" of Dr. Neufeld's video material, our past students have found this faculty-supported component of the course to be one of the most beneficial in furthering their understanding, as the examples that are shared, the different perspectives that are offered, and the ability to spend more time on certain concepts and slides, allows for deeper integration. Course participants who have taken multiple courses through the Neufeld Institute have appreciated the unique flavour that each faculty member brings – as they come from varied cultures, backgrounds and fields of study. Some students even elect to take a course more than once, joining a new Scheduled Online Class with a different child in mind or in a different role that they have taken on. The feedback we consistently receive is that they learn something new every time. A discount is available if you've already paid full tuition for the same campus course and would like to participate in an upcoming Scheduled Online Class. Contact our office to ask for a promo code.
5) Discussion Forum – Every Online Campus Course has a designated discussion forum to post questions, comments and reflections to (participation optional). Each forum is moderated by a course facilitator/faculty member. This is a wonderful opportunity for processing and applying the material to your particular setting and receiving feedback from someone who has been equipped through the Neufeld Institute.
ONLINE CAMPUS COURSE TIME COMMITMENT
Completing an Online Campus Course usually involves anywhere from 3 to 6 hours per session. Students should factor in time to view the lecture video material (1 hour); to read and/or review the supplemental resources (from 30 minutes to 3 hours, depending on how many resources you take advantage of); to attend the weekly online faculty-led class or view the previously recorded support session (usually 1 hour); as well as time for your own processing and forum response (30 minutes to 1 hour).

We consider the lecture video material to be essential core course material. We encourage you to view as many supplementary resources and support sessions as you wish, but utilizing all resources available will greatly enhance your study experience. Discussion Forum participation is optional but it can help with your integration of the material.
EXTENDING YOUR TIME ON CAMPUS
Once you have completed an Online Campus Course with us, you have the opportunity to purchase a one-year campus membership to access all of your previous courses and take advantage of all the resources campus has to offer (read more about campus membership HERE). If you need just a little more time to complete your current studies, we also offer a 3-month study pass extension purchase option. Registering for another Online Campus Course before your current campus access expires will also extend your time on campus. Please note: a campus subscription is the only way to regain access to all previous Online Campus Courses you have taken (courses you have lost access to), and study pass extensions must be purchased before your campus access expires.