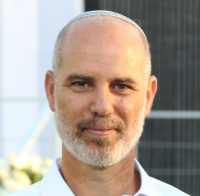 Avnei Hefetz, Israel
Course Facilitator
Amos Kiel has worked in the field of education for over 27 years. With a degree in teaching and educational counseling as well as additional training in guiding teachers from Herzog Teachers' College in Israel, Amos has served as teacher and school guidance counselor at the junior high and high school level, and more recently accepted the position of guidance counselor in the Barkai School in Israel, from first through eighth grade. Amos facilitates sessions with guidance counselors and teachers in the education system. He also counsels parents and facilitates parent groups.
Amos joined the Neufeld Institute in Israel to facilitate the Neufeld courses for parents and teachers and continue his consultations on the foundation of the Neufeld Paradigm. Amos counsels couples and parents who turn to him for guidance, facilitates groups, and gives presentations to teachers at in-service training seminars. Amos' warm and caring nature and his dedication to his students make him a leading figure among students and teachers alike. Amos was drawn to the Neufeld Institute because the Neufeld model resonated with his own approach to education honed from traditional Jewish sources from ancient texts. Through Life Center, he was introduced to the Neufeld Paradigm and the Neufeld Institute courses. These studies affirmed his intuition and approach to education that had evolved over the years while working in the field, enabling him to base his work on his own ancient cultural tradition together with the latest discoveries in brain science.
In Amos' words, "I believe in the developmental process in my work as a consultant. Attachment theory and the dynamics involved in the maturation process provide me with deep insights in understanding my students from the inside out, how they become stuck, and how to guide parents in helping their children become unstuck. Today it is clearer to me than ever the importance of attachment-friendly teachers and the challenging journey in the maze shared by teacher and student."
Amos is married with four children and three grandchildren.
Amos Kiel facilitates The Vital Connection, Helping Children Grow Up, and Common Challenges (Parts 1, 2 and 3 of the Power to Parent series). He also facilitates Making Sense of Discipline and the Teachability Factor. He provides consultation to parents and teachers, and offers presentations on attachment and development to teachers.