As we collectively grieve the death of faculty member Gail Carney, we continue our series of personal stories and anecdotes to share glimpses into the impact she made on her colleagues and friends.

Our guest contributor for this piece is Bridgett Miller, a Neufeld course facilitator who offers courses to parents and works with educators in the Coquitlam school district helping them to make developmental sense of the children in their care.
Over the years I have gathered many fond memories of Gail but what I have chosen to share here are two recollections that are very special to me because of the tremendous impact they have had on my life.
Many years ago while attending the week-long 'Intensive' in Vancouver, I had the opportunity to head outside into the beautiful sunshine during the lunch break. I would usually go and walk for the hour but on this day I found myself sitting on a bench in Vanier Park staring out at the ocean. Gail, too, had wandered outside and she sat down next to me. It wasn't long before we struck up a conversation.
Back then I didn't know Gail very well, but in true Gail style, she knew exactly who I was. Nothing got past her, not ever! We spoke about my interest in the Neufeld courses I had taken, my work with children as a teacher, and most importantly how much better I understood my own children because of this new lens I was seeing them through. During our conversation Gail made a suggestion that would change the trajectory I was on, but I had no idea of the extent of this back then.
Gail invited me to apply for the Advanced Studies program because she felt that I would be a 'good fit.' I remember looking at her and saying, "Really, do you think so?" She nodded and smiled her great big beaming Gail smile. That was it, that's what I was to do and so I did! So much has happened since then.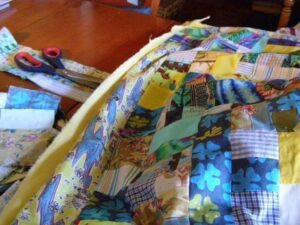 This past summer Gail invited me to visit with her at her house. I arrived to find her home exactly how I always imagined it would be. It was so very Gail! She took me on a tour showing me many of the projects she was working on, her special quilt, her art, her collection of tins and books and one of her prize possessions: her coloured stove that she chuckled over when she shared that she had blown most of her kitchen budget on buying it because she really, really wanted to own it. Ophelia, Gail's cat, who apparently isn't much of a socializer, came over and allowed me to stroke her… which I was then told was was quite the honour! We sat at her kitchen table and sipped tea and talked and talked and talked.
It was during this visit that I had the opportunity to remind Gail of the conversation we had on the bench. I shared with her how my following her lead had taken me places I would never have imagined going, doing things that I would never have believed I'd be up for doing. She smiled and nodded as if what I was saying wasn't news to her because she had known it all along. I am forever appreciative that I was able to thank Gail in person for all that she has done for me, and to let her know just how deeply she has touched my life and those in it.
Gail may be gone, but because of who she was to me, she will always be close to my heart. I feel truly blessed to have known her.
Editor's Note: A scholarship fund has been established in Gail's memory. For more tributes to Gail, links to some of her art and her writings, and information about the Gail Eleanor Carney Scholarship Fund, please visit our Gail Remembered page.