As we collectively grieve the death of faculty member Gail Carney, we continue our series of personal stories and anecdotes to share glimpses into the impact she made on her colleagues and friends.
Our guest contributor for this editorial is Elana Brief from Vancouver, BC. She has taken a number of courses and intensives through the Neufeld Institute and is a student in our Facilitator Training program.
I had the privilege to know and be close to Gail near the end of her life. It seems impossibly recent that I met Gail in the summer of 2014. When I applied to Advanced Studies, she invited me to be her student, and we talked or emailed or met in person every week since then. The only interruptions to our communication came from medical causes — her fatigue from chemotherapy or radiation treatment or cementoplasty (which both relieved some pain and delighted her with its word and its science). From the outset Gail made it clear that she was facing death: a condition of my being her student was agreeing to transfer to another faculty member if she died before I finished the program. And so it began: the precious months and days and hours I got to spend with her.
Because of my own time limitations for meeting, we became quite creative in our venues. We sat on park benches before her medical appointments, we ate scones at Butter Cafe before I picked up my son from a program, we Skyped with her drawings of teacups behind her and the beach and ocean behind me. Several times we wandered around Stong's Market, pushing our grocery carts, talking about counterwill, Gelderman's bacon, making oneself 'sweet' to illicit caring from others (especially when you're ill and moving slowly while choosing your shallots and the younger man behind you is getting impatient), the spice Ras el Hanout (which Gail advised me tastes wonderful rubbed on lamb), and how Mary Ainsworth's Strange Situation classifications have been generalized to absurdity. The most wonderful place to meet, though, was in her home, surrounded by her books and her art.
We shared a love of poetry, and in our meetings we uncannily referred to the same poems. ("Spooky" was Gail's description.)  From our first meetings, though, there was a poem that was lost somewhere in my mind. I couldn't find it, but I knew that I wanted to give it to Gail.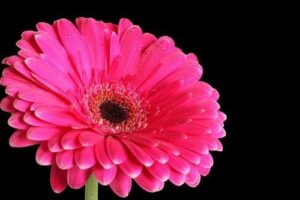 Gail took such delight in living. One day I brought a small bunch of fuchsia Gerbera daisies for her. She took one daisy from the bunch, clipped it, and put it up on a shelf in a small ceramic rectangular vase that set off the colour even more (and the rest she displayed in a more open vase on her table). Croissants became even more delicious in her presence, as she commented on the flavours and textures. Once, as we were running out the door to get to a meeting, she paused to have me taste a smoothie she had just made, because it was 'particularly good.'
It was with great courage, therefore, that she let all these things go one by one. In her last months of life, what she could eat would remind of what she could not. I remember her sadness at having to miss an international speaker on traditional African American quilt-making, something she had been looking forward to for months. She had so much to mourn every day, and she mourned so that she could continue to feel. Most remarkably, she looked into the terrible final separations she was facing. She gently match-made: she drew people together to care for each other in the space of her loss.
On the eve that Gail entered the hospice, I opened the Book of Hours by Rainer Maria Rilke and found the very poem I had been searching for:
I live my life in widening circles
that reach out across the world.
I may not complete this last one
but I give myself to it.
I circle around God, around the primordial tower.
I've been circling for thousands of years
and I still don't know: am I a falcon,
a storm, or a great song?
I sent it to Gail that night. "Perfect," she wrote in reply.
Editor's Note: A scholarship fund has been established in Gail's memory. For more tributes to Gail, links to some of her art and her writings, and information about the Gail Eleanor Carney Scholarship Fund, please visit our Gail Remembered page.